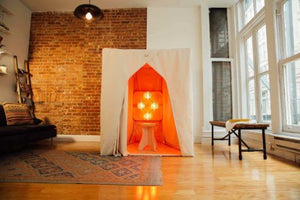 Luminati
(Formerly known as the Pocket Sauna)
SaunaSpace red-filtered incandescent light. The full-spectrum of healing and detox wavelengths.
Therapeutic grade near infrared mitochondrial stimulation. Up to 92 mW/cm2 irradiance on your entire body.
No UV or blue light. No flicker stress. Zero EMF stress from our product, period.
Intelligent design and unparalleled quality for the most safe and transformative healing you'll ever experience.
Your purchase of this bundle does include our new bamboo grounding mat and our comfy stool.
Brand: SaunaSpace®
Manufacturer Part Number: 70144002
WEIGHT
Bundle Weight: 55 lb (25 kg)
Panel Weight: 15 lb (6.8 kg)
Frame Weight: 11 lb (5 kg)
Grounding Bamboo Mat Weight: 4 lb (1.8 kg)
Stool Weight: 8.5 lb (3.8 kg)
Dual-Layer Cover + Curtain Weight: 16 lb (7.3 kg)
ASSEMBLED DIMENSIONS
Entrance Width: 52 in (132 cm)
Rear Width: 24 in (61 cm)
Depth: 52 in (132 cm)
Height: 63 in (160 cm)
OUR HYPOALLERGENIC SAUNA MATERIALS
North American Basswood (Tilia americana)
Stainless Steel
Unvarnished Natural Bamboo
SaunaSpace Signature Hypoallergenic Cotton Canvas
INSTALLATION LOCATIONS
Can be installed in any indoor location protected from outdoor elements.
Can be installed on any indoor flooring: wood,
laminate, tile, synthetic. Heat from sauna does not heat up surroundings to any significant degree. The Enclosure's Dual-Layer Cover & Floor Mat ensures all external home materials cannot be heated and
therefore will not outgas into your SaunaSpace.
TUNGSTEN™ PANEL ELECTRICAL INFO
Operating Cost: 12¢ per hr [1]
MF (Magnetic Field) Rating: 0 mG [2]
EF (Electric Field) Rating: 0 V/m [3]
Voltage: 110-240 VAC
Amperage: 8.3 A (120VAC USA Voltage) or 4.2 A (220-240VAC International Voltage)
Wattage:  1000 W
Frequency: 50-60 Hz
Plug Type: USA, UK, Euro, Swiss or AU/NZ plug
Power Cord Length: 15 ft (4.6 m)
All electrical parts UL-listed
CE-certified
[1] based on USA national average 12¢ kW-hr cost
[2] at ~6 in (15.2 cm) or greater distance from panel body. Measured with a grounded Geovitals EM Field Probe.
[3] measured with a grounded Geovitals EM Field Probe.
Free Shipping Discount automatically taken at check-out
*Ships in 15 – 20 Business Days.