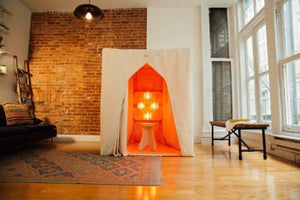 Faraday
Our original Faraday™ design—priced at $7,499—received rave reviews from both customers and experts alike. But our NEW second generation design is not only better, it's more affordable. This new proprietary, upgraded Faraday model—with even better 5G-rated EMF protection and a new grounding mat that delivers "earthing" benefits—is $5,499.
Featuring our custom-made stainless-steel 5G-rated RF shielding system, 3rd-party tested up to 40 GHz to deliver up to 69x more effective shielding protection.
Escape to your very own EMF-free ancestral space inside the world's 1st Faraday Cage Sauna.
As the global march toward more wireless technology advances, we need better RF shielding performance. 5G cellular technology is rolling out this year, 2019, which means higher strength 4G/LTE RF signals and also newly introduced high frequency bands beyond the typical LTE 800 MHz to 2 GHz.
SaunaSpace's new Faraday™ Shielding System features our new custom-made hypoallergenic stainless steel shielding & grounding fabric. It's 3rd-party lab-tested to deliver up to 69x better performance vs the previous generation product at frequencies all the way up to 40 GHz
Brand: SaunaSpace®
Manufacturer Part Number: 70184002
WEIGHT
Total Weight: 67.5 lb (30.6 kg)
Light Panel Weight: 15 lb (6.8 kg)
Frame Weight: 11 lb (5 kg)
Grounding Bamboo Mat Weight: 4 lb (1.8 kg)
Stool Weight: 8.5 lb (43.9 kg)
Dual-Layer Cover: 16 lb (7.3 kg)
Shielding Cover Weight: 9 lb (4.1 kg)
Shielding Curtain Weight: 2 lb (0.9 kg)
ASSEMBLED DIMENSIONS
Entrance Width: 52 in (132 cm)
Rear Width: 24 in (61 cm)
Depth: 52 in (132 cm)
Height: 63 in (160 cm)
OUR HYPOALLERGENIC SAUNA MATERIALS
North American Basswood (Tilia americana)
Stainless Steel
Unvarnished Natural Bamboo
SaunaSpace Signature Hypoallergenic Cotton Canvas
SaunaSpace Proprietary Stainless Steel Shielding Fabric
INSTALLATION LOCATIONS
Can be installed in any indoor location protected from outdoor elements.
Can be installed on any indoor flooring: wood,
laminate, tile, synthetic. Heat from sauna does not heat up surroundings to any significant degree. The Enclosure's Dual-Layer Cover & Floor Mat ensures all external home materials cannot be heated and
therefore will not outgas into your SaunaSpace.
TUNGSTEN™ PANEL ELECTRICAL INFO
Operating Cost: 12¢ per hr [1]
MF (Magnetic Field) Rating: 0 mG [2]
EF (Electric Field) Rating: 0 V/m [3]
Voltage: 110-240 VAC
Amperage: 8.3 A (120VAC USA Voltage) or 4.2 A (220-240VAC International Voltage)
Wattage:  1000 W
Frequency: 50-60 Hz
Plug Type: USA, UK, Euro, Swiss or AU/NZ plug
Power Cord Length: 15 ft (4.6 m)
All electrical parts UL-listed
CE-certified
[1] based on USA national average 12¢ kW-hr cost
[2] at ~6 in (15.2 cm) or greater distance from panel body. Measured with a grounded Geovitals EM Field Probe.
[3] measured with a grounded Geovitals EM Field Probe.
Free Shipping Discount automatically taken at check-out
*Ships in 15 – 20 Business Days.